Stick-On MicroLifts™ are the world's smallest and only "functional orthotics" you can use anywhere, even barefoot. Stick them on your feet or in your shoes. Perfect for barefoot sports like Pilates, and Yoga to improve your balance. Stick them in your sandals, flip-flops and gets rid of that burning ball-of-foot pain when wearing high heels.

Available in:
Three pair package

12 pair package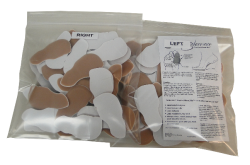 50 pair package
Durability: On the feet, 1-3 uses (life of adhesive varies with skin type and use) In shoes 3-4 weeks or more (Pads will ultimately take a pressure set)
Medium fits women's size 5-10 and men to size 8 1/2. Large fits women greater than 10 and men 9-up
Watch this video for more detailed wearing tips.